At some point almost every traveler considers visiting Vienna (Wien) when even for just a one-day trip. I believe Austrian capital deserves at least a week of your time, if you want to explore local attractions, visit a few museums, magnificent palaces and parks, and of course, do some shopping.
Vienna is also a large transport hub for the eastern part of Austria, so you can use this city as the central point for trips to the nearby cities, such as Baden, Klems, Stein an der Donau, Klosterneuburg, Melk, St. Pölten, Neulengbach. Vienna can also be used as a central point for more complex trips. For example, you can stay in Vienna, and plan trips to the neighboring countries (Bratislava is just an hour away from Vienna, Budapest is two hours away, and you will need just around 40 minutes to reach Sopron), or you can plan trips that include visiting various federal states in Austria and Germany, as well as exploring Slovenia, Czech Republic, Slovakia, Hungary or even Italy and Switzerland.
What Area is the Best to Stay in Vienna?
Vienna has the following areas.
The Old Town (also the first district, or the Innere Stadt, or simply city center, as it is referred to on various booking websites) is circled by the Vienna Ring Boulevard – the Ring. Here you will find all the main tourist attractions, except maybe a few, that's why staying in the Ring area is very convenient – everything is within an easy reach. But the prices (hotels, apartments, etc.) are the highest in the city.
Just outside the Ring there are districts built in the 19th-20th centuries, there are mostly majestic beautiful buildings comfortable for accommodation: the city center can be reached on foot, public transport is also available, and prices here are lower than in the Old Town. These districts are circled by another ring named Gürtel. Along this second ring main Vienna railway stations are located.
Actually, choosing a hotel near one of the Vienna stations makes sense if you plan to travel regularly to the nearby cities or even countries. For example, from Westbahnhof (the same name metro station is here) trains depart to France, Switzerland, Germany, Hungary, other countries of Western Europe, as well as trains into the direction of Linz, Salzburg, and Innsbruck. You can also combine hotels that can be reasonable if your trip will last longer than a week. Let's say when you explore Vienna and its city sights, you can stay in the city center (inside the Ring), but when you start traveling to the nearby areas, you can relocate closer to the railways station, saving time and money.
Beyond the second ring there is probably only one district worth consideration. It is Schönbrunn Meidling.
If we speak about central districts, I would recommend avoiding Prater that is not really safe after the dark, even if city authorities put effort into making it a safer place.
Now I will discuss more detailed each of the above-mentioned districts with focus on tourist attractions and not the formal division into districts. Here are the districts that will be covered:
Besides, in this article I will also add some information about apartments in Vienna and about what you should pay attention to when searching for accommodation in Vienna.
Innere Stadt (Vienna City Center)
If you come to Vienna to see numerous city attractions and visit museums, and at the same time you do not plan to explore nearby areas (except for Baden which can be reached by tram from the Opera), then it makes sense to search for accommodation within the Ring. This district is usually named the Inner City (Innere Stadt) (the relevant list of hotels can be found here.) The main advantage of hotels in this area is their strategic location in the city center, within an easy reach of all tourist attractions (Schoenbrunn Palace is probably the only place that will require you using the public transport to get there.) Within the Ring there is a large number of shops, including supermarkets Billa (one of them is located just opposite the St. Stephen's Cathedral), here you will also find coffee and pastry shops, cafes, restaurants and fast food stalls. This part of the city is always decorated for Christmas and Easter, it is also safe for walks at any time of the day.
The disadvantages of hotels in the Inner City include their high price compared to rates in other districts of Vienna (prices for a double room with complimentary breakfast can start with 120-150 euros per night and the reach 300, 600 or even 800 euros), and constant crowd that is typical for the city center. However, if your room's windows face the courtyard, or if you don't open them at all, you don't have to worry about the noise. Additionally, there will be too many people in the breakfast area and you might not be able to find a table there, but this problem can also be solved if you wake up a little earlier. But if it is important for you to have a view at the St. Stephen's Cathedral from your room, then you have to put up with the cathedral's bells and also with the noise caused by tourists, numerous carriages and horses.
You should pay extra attention to hotels, apartments and guest houses located in old buildings. Try finding out in advance – also based on tourists' feedback – all the aspects important to you, i.e. how large the room is, how old the furniture is, if there is an elevator, an air conditioner in summer, if the Internet is available, the level of comfort and service, etc.
If you want to choose a hotel in Vienna's center, take a look at DO&CO Hotel Vienna, Austria Trend Hotel Europa Wien, Hotel Kaiserin Elisabeth and Hotel König von Ungarn. A little more budget friendly are such options as City Pension or Hotel Royal, located in the building near the Cathedral (from its restaurant Settimo Cielo on the roof where breakfast is served, and from some rooms there are great views at the cathedral and its ornamental roof.)
If your budget for the trip is unlimited, you should give yourself a real treat and choose one of five-star hotels with history. For example, Hotel Sacher Wien is just next to the Vienna cathedral and has a subtle aura of the real Vienna (Sacher has often been featured in movies and books), and on the ground floor there is a famous café Sacher, where you can try a slice of the legendary Original Sacher-Torte. Thanks to a great popularity you have to book a room in the hotel or a table in the cafe in advance and remember of the dress code as well, if you don't want to feel under-dressed. Grand Hotel Wien is located at the Vienna Opera house (Wiener Staatsoper) and the shopping area of the Kärntner Straße. You don't have to leave the hotel to get into a nearby shopping center or a large spa center. Other iconic hotels of Vienna are Hotel Ambassador and Steigenberger Hotel Herrenhof.
High rates of five-star hotels in the city center is not their only disadvantage. Additionally you will also have to deal with taxi drivers who would want to take advantage of your pockets: the rates of taxis standing near such hotels will be twice more expensive compared to the rates of taxis that you can hire by making one phone call (it makes some sense, if you think about it: if you can afford a room in a luxury hotel, 10-15 extra euros for taxi should not cause any problems to you.) But of course, there are great advantages of staying at such hotels: the level of service is incredible (for example, you can book tickets for Opera just by asking the receptionist.)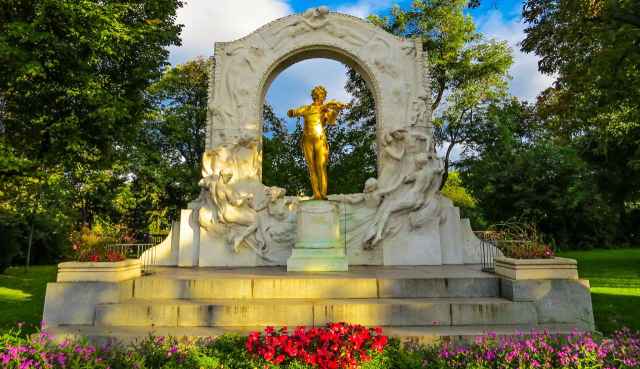 A couple of blocks near the Vienna city park (Stadtpark) is a great area to live in, in my opinion. It is a real green island in the city center where you can enjoy evening walks or morning jogs. Besides, the park has a lot of monuments and is on the list of Vienna attractions. So, if you want to live in the center, but at the same time near the park, you can take a look at such hotels as Palais Coburg, Hotel Am Parkring, InterContinental Wien, Vienna Marriott Hotel. The advantages of this district are amazing historical buildings (you will live in one of them if you decide to stay here), the above-mentioned park, and, if you are lucky, beautiful views at the Old city (when booking a hotel, ask for the top floors.) As it is still the city center, all the tourist attractions are within an easy reach. Possible disadvantages of the hotels in this area important for some tourists include high prices (this is a high-profile district) and a relatively undeveloped infrastructure – there are not many supermarkets here, and if you want to find cafes, restaurants, and stores, you will either walk to the cathedral area, or to the station Wien Mitte/Landstrasse, that is located at the opposite side of the park. However, the walk will not take more than 5-10 minutes, that is more enjoyable than annoying.
Actually, Wien Mitte/Landstraße is not just a hub station for two lines of Vienna's metro, but also a station for S-Bahn and inter-regional trains, as well as the end station for the City Airport Train (CAT), a train from Vienna airport. On the second level of the station there are many stores, cafes, drogeries, so this area can also be considered as a very convenient for accommodation thanks to the infrastructure, especially if you plan to explore the surroundings of Vienna, or just do not want to spend much time for the travel from/to the airport. The Ring is within an easy reach from here, the city park is nearby, the cathedral is just 12-15 minutes away, the same amount of time you will need if you want to walk to the Hundertwasserhaus. The local streets are a little bit too loud because of the intensive traffic – that can be considered to be the disadvantage of the district. That's why you should probably ask for the room that is on one of the top floors or is facing the courtyard (or at the very least, pack the earplugs.) In this part of the city I can recommend Hilton Vienna.
In the north part of the Inner city near the Danube Canal (Donaukanal) there is a nice district, which is just 8–10 minutes away from the St. Steven's Cathedral. In this Vienna district you will find a lot of great places to eat, starting from typically Austrian taverns, and ending with kebabs stalls and Chinese restaurants. Plus, there are supermarkets hiding on the ground floors of the buildings. Nice hotels in this district are Hotel Capricorno, Hotel Kärntnerhof, Alma Boutique-Hotel, Hotel Austria – Wien or a hotel that is a part of a famous European chain of aparthotels Adagio Vienna City (I will provide information about apartments in Vienna later in this article.) However, here you should keep in mind the following: if the windows of your room face the Danube Canal, it might become a little too loud because of all the festivals that take place here in summer, but then it is only until 11 pm.
Hunderwasserhaus Neighborhood
Outside the Ring in the eastern part of Vienna the Danube Canal makes a loop and separates an interesting district with the famous Hundertwasserhaus as its center. This is a residential area where you can easily see an old lady wearing a fancy hat with a poodle on a leash, or senior citizens enjoying the day sitting on a bench in a park. There are hardly any tourists here, except for the Hunderwasserhaus, and here you definitely don't want to be in a rush, hunting for another tourist attraction to take a photo of. But then, there are lots of places you can take photos of here: there are many buildings which are interesting because of their architecture. Some of them are hotels where you will find rooms with high ceilings, or even a wide grand staircase with wrought iron railings. Local hotels here can be divided into three categories: 1) hotels located on the bank of the Danube Canal, 2) hotels in the heart of the district, and 3) hotels near the Hundertwasserhaus.
Hotels and apartments (for example, Kunsthaus Apartments or Hotel Urania), located on the bank of the Canal, are the best option logistics wise: there is a city sightseeing bus that will take you along the quay, there are several tram stops from which the Vienna tram (in and of itself a tourist attraction) will take you to the Ring or Prater in just five minutes, and you can also take a 10-minute walk to the Wien Mitte/Landstrasse (see above.) Here you will also find a good infrastructure: there are supermarkets and restaurants, but it is a little too loud even if you don't keep the windows open.
Hotels that are located in the proximity of the Hunderwasserhaus (for example, Ruby Sofie Hotel Vienna), don't have any extra advantages, in my opinion, except being close to this tourist attraction, but they have higher rates compared to neighboring hotels in the district.
Hotels and apartments in the heart of the district (such as Gartenhotel Gabriel City or Flatprovider – Dream Apartment) are farther away from the city center but you can still easily reach the cathedral in just 10 minutes by using the metro, and prices here are significantly lower than in the Inner city.
Belvedere Area
South-east from the Ring, just outside of it, there is the Belvedere Palace and Museum. The absolute advantages of this district include location (close to the center, just 10 minutes away from the Ring and from the Opera house) and transportation (trams stops and the Rennweg railway station from where you can take a direct train to the Vienna airport, from the other side of the palace you can reach the central railway station Wien HBF.) Besides, in this district there are many nice places to eat (for example, near the palace entrance there is an old brew house with traditional cuisine.) I would recommend taking a look at the following hotels and apartments: Gasser Apartments, NH Wien Belvedere, Austria Trend Hotel Savoyen Vienna and Daniel Vienna.
Karlskirche and Naschmarkt Neighborhood
Vienna Technical University. And nearby there is Karlskirche and a hub station for U1, U2 and U4 metro lines; the St. Stephen's cathedral is very close-by – around 10 minutes on foot; just as much time you will need to reach the Belvedere palace. The University occupies several large buildings and some of them have recently been transformed into nice apartments that tourists can rent, and the rates are rather budget-friendly. I recommend to take a look at Vienna Apartment 4 and Apartment Karlsplatz – staying here you can live close to the city center for reasonable money. You can cook your own meals; at the Naschmarkt that is located nearby there is a good selection of food for everyone's taste. Hotels in this area also boast reasonable rates, you can choose Best Western Premier Kaiserhof Wien, for example.
Museum Quarter
If you come to Vienna to visit museums, then maybe it makes sense to stay in the close proximity to the Museum Quarter (MuseumsQuartier). From here, you can easily reach the Hofburg Palace, the Cathedral is just 10 minutes away, trams can bring you to the Westbahnhof station, and the famous shopping street – Mariahilferstrasse is 15 minutes on foot away. The Museum Quarter has its own public parking lot that is definitely great news for those travelers who come by car. This district is considered to be fashionable, and in the recent time many designer hotels have opened here, and all of them have spa centers. The disadvantage of the district is that it is a bit too loud outside, but if the rooms are sound proof, and there are air conditioners, you won't have to deal with any noise. Hotel Sans Souci Wien, for example, opened in December 2012: in addition to designer interiors, it offers a full range of services (even your car will be parked by the hotel's staff) and a great spa center. Hotel Savoy Garni features a traditional Vienna style and is located on a quiet street, at the same time it is very close to the metro and the stores. K + K Maria Theresia is located in the art quarter Spittelberg, some rooms have great views at the Hofburg palace, and all of them have a kettle, so you can make yourself a cup of tea or coffee. Hotel ViennArt am Museumsquartier features modern art works.
Vienna Townhall Neighborhood
The district of the town hall (Rathaus) and the surroundings is great for living, too, especially, if in your previous visit to Vienna you stayed at the other end of the Ring: now you can take a fresh look at all the main sights, but without compromising on the location. The cathedral is just 10-12 minutes away from here, and some of other tourist sights are even closer. Nearby you will find a lot of cafes and restaurants with reasonable prices. I can recommend the following hotels in this area: Hotel de France Wien, The Levante Parliament, Hotel Alpha Wien and Hotel Rathaus – Wein & Design.
Schönbrunn Palace Area
I think another nice place for living in Vienna is the Meidling district, located near the Schönbrunn Palace – to the south-west from the Ring. Staying here makes sense if it is not your first trip to Vienna, if you have already visited all the museums that were of interest for you, and now want to stay in a traditional Vienna district, enjoying daily walks in the Schönbrunn park. It is also important to keep in mind that during construction works at the main railway station in Vienna (the works are planned to be finished in 2015), some of trains arrive instead at the Wien Meidling station that is located in this area. So, if you come to Vienna from Czech Republic or Poland (or plan to visit Prague from Vienna), it makes sense to find accommodation nearby. Besides, from this station buses depart to the airport. Hotels here are mostly located on quiet streets not far from the palace park (for example, Seminarhotel Springer Schlößl.) Here you can also find accommodation with a fully equipped kitchen, for example, Apartment24 – Schoenbrunn or Sunny Apartments – Schoenbrunn, and there are hotels that are member of global chains, for example, Courtyard by Marriott Wien Schönbrunn. Hotels in this part of the city often have a free of charge parking (you should ask about it before you book the room.) Infrastructure here is very good too (cafes, restaurants, supermarket Spar), and if you want something special, the city center is just 2-3 stops away by metro. The main advantage of the area is, of course, the Schönbrunn Palace with a large park where you can easily spend a couple of days: the first day – for the palace with Carriage Museum and walks in the park, and the second day – for the impressive zoo.
Renting Apartments in Vienna
As an option, you can rent apartments in Vienna for your accommodation. Every year more apartments for rent are available in the city center. You can buy food to cook your own meals in supermarkets Billa (the website of this supermarkets chain provides all the information about the location of its stores all over Austria in particular districts of various cities), this will allow you saving a significant amount of money, especially if you visit Vienna with the family or a large group of people, or if your kids eat only home cooked meals. A great advantage of apartments is that they have a fully equipped kitchen and a washing machine, sometimes also a dish washer. Some apartments do not look like a room for rent but are real Vienna apartments which is, in my opinion, an additional benefit. However, you should take into account a few important matters, i.e. if there is heating system (in winter) and if there is an air conditioner (in summer.) Public transport is great in Vienna, both above- and underground, so you can pick even remote districts for accommodation. Nice options include Adagio Vienna City, Appartement-Hotel an der Riemergasse, Vienna-apartment-one Schmidgasse and Singerstrasse 21/25 Apartments Besides, I have mentioned some good accommodation options when I described Vienna districts.
Things to Consider When Choosing a Hotel in Vienna
In conclusion, I would like to mention characteristics of accommodation in Vienna. First, the hotel and apartment rates. Vienna is not exactly cheap and tourists will have to deal with that. Even guest houses in districts far away from the city center might cost 50-60 euros per night, and the closer you are to the center and the more high-profile the district is, the more expensive hotels will be.
High season in Vienna is Christmas and the period from April to October, so if you don't mind slushy weather and the most important thing for you is to see the city, then you can save a lot by visiting Vienna in winter. Besides, each hotel chain and even certain hotels might have unexplainable price hikes. You can see it during the booking process, if you shift the dates by a couple of days, the price of the hotel/apartment that you chose for yourself might be reduced by 50%. I still don't understand the reason behind this even after so many trips to Vienna. To save money, you can stay outside the Ring, but you probably still should not live in the most remote districts because the money you will spend on transport to get to the main sights will reduce your savings to nothing.
There is a well-known issue of parking in Vienna: as in many other tourist cities, there is not enough place for parking lots, and searching for a spot in the city center (especially on weekdays) can easily spoil your mood on vacation. Hence, renting a car only makes sense when you plan visiting areas outside Vienna (in this case, you can consider choosing accommodation not in Vienna but in the nearby cities, for example, in Wiener Neustadt.) If you really need to get a car, then you should check if the hotel has its own parking lot (and how much they charge) and maybe even try to reserve a parking spot in advance by writing to the hotel (but usually they do not allow that.) At the same time, there is no problem with parking for bikes. Many hotels have specially equipped parking lots.
Before booking it is important to check the feedback left by other travelers about hotels they stayed in – this option is provided on many websites. The feedback can provide you with invaluable information, for example that free of charge Wi-Fi is only available to guests with the member cards, that next year the hotel will be renovated, or that you should come for breakfast early, or there will be no table for you. Some feedback might be not relevant for you (for example, I do not care if hotel has smoking rooms, or if there are TV channels in my language), but at least you will be able to receive a more comprehensive picture of the hotel.