Tallinn is, in my opinion, one of the most beautiful and well preserved medieval cities in Europe; add to that reasonable prices for accommodation and food, a good transport connection to many other cities, and you will find yourself a great option for a weekend trip. When you visit Tallinn, try finding a place to stay in the city center – hotel rates are quite reasonable here (you can live in the center of Tallinn with views to the Town Hall Square and it will cost you as much as a box of a room with broken shower in Paris). The main factor that you should consider when choosing a hotel in Tallinn is related to the climate: winters here are mild, spring and fall are known for sprinkles of rain, and summer here is pretty short, but for some reason summer is suggested as the best time to visit Tallinn (you will see that the rates in some Tallinn hotels will skyrocket in summer and will be close to those of Paris hotels). In my opinion, this city is great to visit any time of the year. It's not like you are going for a beach holiday here, so for the purpose of exploring the city you can easily come to Tallinn in spring or in fall when hotel rates aren't as high, and for 50-60 Euro per night with complimentary breakfast included you can book a four-star hotel in the city center, in an old authentic building. Another price spike will happen in Christmas season because many people believe that Tallinn is a great place to celebrate the festive mood, so if you want to come here around that time, book in advance.
What Area is the Best to Stay in Tallinn?
Hotels in Estonian capital are located quite dense, and closer to the hill where the Toompea Castle (Toompea loss) is situated. Just across the road from the castle hill there is a railway station but here you will hardly find many hotels like in some other European cities. It can be explained by the fact that a tourist will always find a budget-friendly option in the city center in an authentic building and enjoy the clock striking the hours in the mornings while looking at pretty red tiled roofs and towers instead of being stuck near the railway station.
Old Town
Most of Tallinn hotels in the city center take advantage of the medieval atmosphere: the rooms interior includes brickwork, antiquated heavy oak furniture, wooden floors, and heavy ceiling beams, there are always details that create both the mood and the atmosphere, for example, a heavy iron-bound key, leather bound guestbook and a goose quill, knight armor, or prints with the views of the Old Tallinn. In most cases, hotels in the center of Tallinn are authentic old buildings, some of which have been hotels back in the 16th-17th centuries, they feature cute courtyards that are usually decorated for Christmas and national holidays, and, as a rule, these hotels have equipped mansard rooms. Breakfasts in Estonian hotels offer a variety of options and you will never leave hungry: often there is local fish (herring with various marinades), boiled potatoes, pickles and salads. Especially delicious is the local whole-grain bread and sprat, for desert hotel guests might be treated to local specialties, such as Kalev marzipan. Hotel personnel will provide all information about local tourist attractions and restaurants. These are advantages of the hotels in the area. But there are also disadvantages. For example, if you plan to travel by car, you should specify in advance how to reach the hotel and where you can park because entrance to the Old Town is partly limited to non-residents. Also take into account that many hotels will take a deposit by blocking a certain amount on your bank card (as a guarantee for possible room damages or the use of mini-bar). Here you probably should take a philosophical approach: if tourists didn't try to cheat hotels by checking out without paying for the mini-bar use, hotels would not be forced to use such methods.
Tallinn used to be one of Hansa cities, a large and rich merchant harbor town, so its medieval area is pretty large and can be divided into two districts: the Upper city, where the hill with the castle is situated, and the Lower city, separated from the Upper city by the defensive wall, here, in the Lower city we can see some separate districts, such as the districts around the Town Hall Square, Viru Gate, near the Fat Margaret Tower, and the district at the foot of the castle hill.
There are no hotels in the Upper city – it is explained by the fact that all buildings here are protected by the government and it is not allowed to change anything outside or inside the buildings, and establishing a hotel would require a lot of changes. But here you can find a number of apartments, for example, Town Hall Square Apartment – Toom-Rüütli. The most important advantage of local apartments is their location – here you can feel the atmosphere of the medieval town, besides, nearby there are some sightseeing platforms, from where you can take amazing pictures of the Old Tallinn when the weather is good. However, you can count the distance from the shopping and parking areas (no cars allowed on the castle hill) as one of disadvantages of this accommodation option. Besides, since the apartments are located on the hill, you will have to walk up the hill which is not exactly convenient when you have your baggage with you. You should also keep in mind, that there are hardly any options for an early breakfast in Tallinn – everything is closed, and if you don't stay in a hotel, and haven't taken care of your own food the day before, you can easily stay hungry. So, if you plan for an early arrival in Tallinn, get some food with you, and ask in the hotel in advance if you can have a breakfast there before you check in; of course, you will have to pay for it (many hotels provide such service).
Alternatively, you can consider hotels located at the foot of the castle hill, for example, Baltic Hotel Imperial. From here you can easily reach the Town Hall Square and the railway station, plus there are some grocery stores nearby, including Kalev marzipan brand store. But the best thing is that staying very close to the Upper City you will not have to climb the hill several times a day.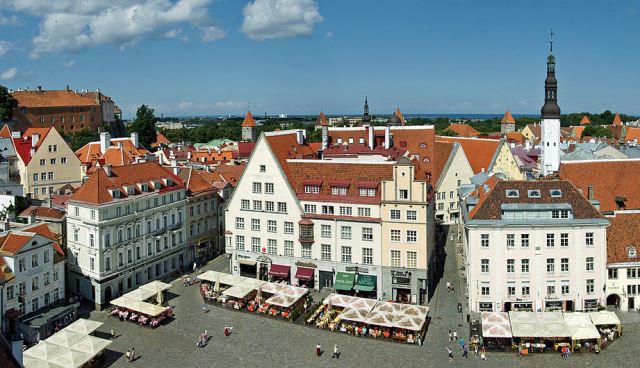 The Town Hall Square (Raekoja plats) is great for accommodation, if you like to stay in the center of city life: during Christmas season everything is decorated here with the Christmas tree becoming the center of activities, this is also the place where Christmas fair takes place, in summer you will find here art works by local artists. All attractions are within a short distance: five minutes to the castle, around ten minutes to the Fat Margaret Tower, five minutes to the Viru Gate. In the area of the Town Hall Square there are lots of restaurants, cafes, and bars, including the extremely popular among tourists restaurant Olde Hansa with the medieval atmosphere or another popular place – Majasmokk; here you can also find shops that sell Estonian linen, amber goods, and cute souvenirs. Some disadvantages of these hotels could include be the noise from the square during celebrations, relatively high prices and limited options for parking. Some hotels have a small parking area, just for 10-20 cars, and you have to book a parking spot in advance, besides, driving from the hotel can also be inconvenient, because often the garage doors won't open automatically, and you will have to get out of the car, call the personnel and ask them to open the doors. An interesting option here, in my opinion, is Hotel Telegraaf, located in the building formerly occupied by the telegraph office round the corner form the square. Though, you should keep in mind that spa services and restaurant meals are quite expensive here – in Tallinn you can find cheaper alternatives.
You can also opt for up-to-date fully furnished apartments in the old authentic buildings, some of which face the square. They can be a good alternative to the hotels on the Town Hall Square. Advantages are obvious to those who prefer cooking their own meals and is not fond of crowded places like hotels. At the very least your apartment will have a kitchen, some of them have dishwashers and washing machines. Apartments can be great for large groups of people or families – there are two-three bedrooms apartments. In this district I recommend to take a closer look at Town Hall Square Apartment – Vene Residence or Raekoja Residence.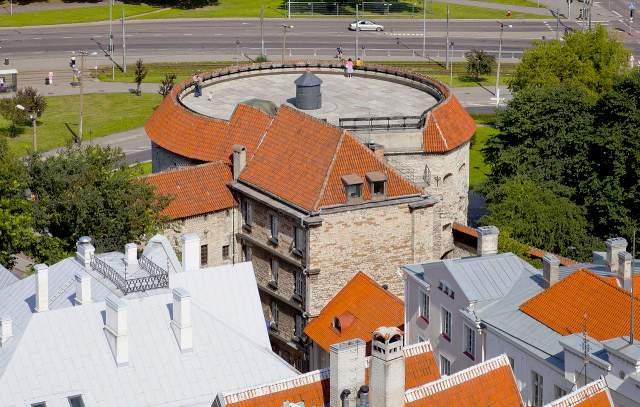 Amazingly authentic streets of the Old Town, once home to numerous merchants, branch out from the Town Hall Square. The main benefit of living here is the atmosphere – you can feel as if you are a traveler visiting here because of your Hansa-related business. If you are lucky, the views from your room will correspond with the atmosphere: it can be either St. Olaf's Church, or a narrow street with curved walls and an arch, or a part of the defense wall; at the very least, the view will include a nice courtyard or a string of picturesque roofs. Near the Fat Margaret Tower you will find the most popular Tallinn hotel – The Three Sisters Boutique Hotel, located in three adjoining 15th century buildings. There is another nice accommodation option St. Olav Hotel in the Lai street where you can get a great breakfast, and a beautiful room with an original interior design, all for a reasonable price. Possible disadvantages of the hotels here can include familiar parking problems (familiar for those who has already visited old towns before) and small rooms, however, rooms are comfortable and every inch is used rationally. Plus, if the hotel is situated in a number of buildings, you can initially feel disoriented because passages from one building to another are on different floors, but you get used to it pretty easily.
The Viru Gate (Viru väravad) is the legacy of the medieval Tallinn – the gates are located just a few minutes away from the Town Hall Square. This district has its own advantages. On the one hand, there is a preserved ancient city wall, and buildings are also pretty old, on the other hand, there are lots of stores nearby, including supermarket Rimi where you can buy sprat, whole-grain bread, marzipan, and Vana Tallinn liquor (keep in mind, that alcohol is sold in Estonia only from 10 am to 10 pm and that public use of alcohol is prohibited). When you pass through the walls of the Old Tallinn you will get into the skyscrapers district (more information about this district can be found below), where you can finally enjoy shopping because most of European brands and some of Estonian ones are presented here. Here, near the Viru Gate you can find the Taanilinna Hotel, that is quite unnoticeably located that far in the yard but features nice rooms and great breakfasts.
Spa Hotels in Tallinn
Five minutes away from the Viru Gate you will find one of the first spa hotels in Tallinn Kalev Spa Hotel & Waterpark. The hotel features pretty good spa services and a large swimming pool, but the rooms are quite small and the hotel itself is very large and crowded, so you should decide for yourself if that's something good enough for you. Alternatively, you can book (in advance!) spa services in this hotel but stay in a hotel nearby, for example, in the Taanilinna Hotel.
New spa hotels, built in Tallinn recently, are located in the proximity of the harbor district. These are modern buildings with available parking. This district is just 10-15 minutes away from the city center. But here you will not find as many catering options as in the center, however, there are some shopping malls nearby. A great bonus is the nearby location of the maritime terminal with ferries that can take you to Scandinavian countries or to Saint Petersburg. I think that the best accommodation option in this Tallinn district is Tallink Spa & Conference Hotel.
Outside the Historical Center of Tallinn
To the East from the Old Town of Tallinn there is the ultra-modern district of Skyscrapers: here you will find lots of offices and stores; but at the same time the district is just 10 minutes away from the Viru Gate, and 15-20 minutes away from the Town Hall Square. Hotels here are located, as a rule, in modern buildings, have parking, and a couple of restaurants. I would recommend to take a look at the Tallink City Hotel here. Some people might see as a disadvantage of this hotel that there are lots of people here, especially during Christmas season when a great number of tourist groups visit the city.
Living outside the historical center of Tallinn is not really recommended, even if the city is not large, because being stuck in a traffic jam and having to waste precious time, especially if you come in winter when the daylight hours are short, does not make much sense. However, there are some exceptions here, of course. For example, if you want to live near the Pirita beach, in the pinery, you have a car and the distance from the Old Town doesn't scare you, you can find some nice accommodation options here, for example, Pirita Apartment or Kase Nice Small Villa.
In conclusion, I would like to add a few comments about safety. When you are in Tallinn, or in any other European city, you have to take some basic precautions, such as keeping some of your money in the safe in your hotel, pay attention to your belongings when you are outside, especially when the area is crowded, like, for example, during the Christmas fair at the Town Hall Square or during sales in city malls. At the same time, you can explore the central streets even at night – the city center is equipped with surveillance cameras and is well illuminated.