Kazan (Казань) is one of the oldest Russian cities, it is more than one thousand years old. The city is located on the confluence of rivers Volga and Kazanka, approximately 800 kilometers from Moscow. Today it is a large economic and cultural center that is included in the UNESCO's list of World Heritage Sites.
The main tourist attraction is, of course, the Kremlin – the gem of the Tatarstan's capital. But the Kremlin is not the only sight worth visiting in the city. Kazan is such a unique place where a tourist can enjoy not only architectural masterpieces and the beauty of nature, but also experience a remarkable atmosphere of this city fueled by its millennial history.
The Kazan Kremlin includes a great number of tourist attractions such as the Museum of Islamic culture, the Museum of natural history of Tatarstan, the Great Patriotic War Memorial, the Mausoleum of the Khans of Kazan, the Annunciation Cathedral, the Savior-Transfiguration Monastery, as well as the Qol-Şärif mosque – the main mosque not just in Kazan but in the entire Republic of Tatarstan. Here you will also see the leaning Söyembikä Tower.
The historical downtown of Kazan is not limited by the Kremlin, the entire city center preserved architectural buildings dated back to the 19th the beginning of the 20th century. You should definitely pay a visit to the Shamil House, Gostiny Dvor, Kazan Town Hall – all of these historical monuments demonstrate fine samples of architecture of at least one century old.
What Area is the Best to Stay in Kazan?
Kazan is divided into seven districts and separated by the Kazanka river into two more or less equal parts connected with each other via the Millennium bridge and three dams.
Kazan's districts are: Vakhitovsky (Вахитовский), Kirovsky (Кировский), Moskovsky (Московский), Aviastroitelny (Авиастроительный), Novo-Savinovsky (Ново-Савиновский), Privolzhsky (Приволжский), Sovetsky (Советский). From a tourist's point of view, a good district for accommodation is Vakhitovsky – the central district because here you will find the main tourist attractions. Some people might find Novo-Savinovsky district of interest. Even though it is just a residential district it is home to the water theme park Riviera with a great entertainment center.
Other districts in Kazan are residential and you will not find anything interesting there. That's why we will focus our attention on Vakhitovsky district and will try to divide it into a few subdistricts, so that you could decide what hotel would be the best one for you. And as a bonus, we will take a look at Novo-Savinovsky district, or, more specifically, at the area where Riviera is situated.
I recommend to take a closer look at the following areas:
The Kremlin and Baumana Street Area
As you already know, Vakhitovsky district is the center of Kazan. The district is pretty large and includes not just the Kremlin with all its monuments but also six theaters and more than ten museums. Besides, most of educational institutions in Kazan are located here, and the district itself can be considered a green area – there are lots of parks here. It feels as if the district was initially designed for tourists and their comfort, so that they could have access to all historical monuments in one place and enjoy the pleasant atmosphere of the city and its picturesque views. To be honest, you will probably not find a single person who visited Kazan and left with negative experiences.
The main tourist attraction in this district is definitely the Kremlin (Кремль) located on the Kazanka river.
Kazan, just like any other tourist center, has its own central pedestrian street – Baumana street (улица Баумана) that starts at the Kremlin and stretches up to the Tukaya Square. Baumana street is an important sight in and of itself. It dates back to the 15th-16th centuries when it had been named Nogayskaya Road, the name that was later changed to Prolomnaya and Bolshaya Prolomnaya Street. The current name was assigned to the street in the first half of the 20th century.
Today's Bauman street is filled with shops, cafes, and restaurants, here you will come across streets performers and artists. During public holidays it hosts theatrical and dance performances. It is a great place for walks and exploring of historical monuments.
When choosing a place to stay in Kazan, the Baumana street area and the nearby streets are probably the most convenient in terms of proximity of the main tourist attractions.
In this district I can recommend the following accommodation options: Courtyard Marriott Kazan Kremlin, Hotel Nogay, Hotel Giuseppe and Hotel Aron.
Some budget-friendly options include Backpack Hostel on Baumana 74, Kremlin and Wings hostels. All of them are located within a walking distance from the Kremlin and the main pedestrian area of the city.
Railway Station Area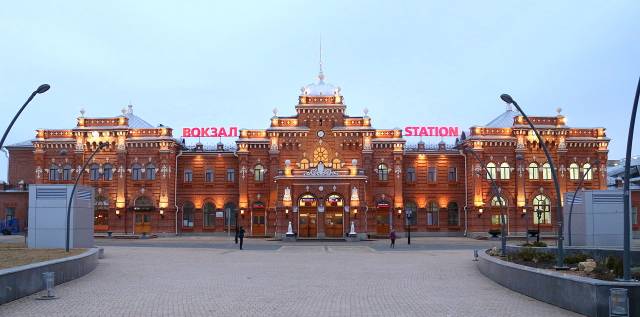 Kazan's railway station consists of a few buildings at the Privokzalnaya square: the historical main building (built in 19th century), the suburban rail terminal, the building with counters for long-distance trains tickets, as well as a number of modern service buildings.
From historical point of view, only the main building can be interesting to a tourist, and practically, it can be of interest to those travelers who come to Kazan by train and would not like to travel much with luggage through the city. Even if you come to Kazan by plane, it is wise to consider the accommodation near the railway station. The express train will bring you to the airport (or from the airport to the station) in just 20 minutes.
Luckily for travelers, the railway station is located in the city center, from here you can reach the Kremlin on foot in 15-20 minutes, and it will take you even less to reach Baumana street.
I recommend to take a look at the chain hotel Ramada Kazan City Centre, as well as hotels Chrystal and Kazantel. All of them are located within 200 meters from the railway station and 15-20 minutes from the Kremlin.
If you want to save some money, there is hostel KunakHouse a bit farther.
It should be mentioned that in 2012 a new passenger terminal was opened in Kazan on the opposite bank of the Kazanka river. Transit trains have their stops here. If you arrive by one of these trains, do not search for accommodation in this area; it is better to find something closer to the city center. Both city areas are connected by underground, and you can easily reach the historical downtown and stay in one of the recommended hotels.
The Area of Kazan Fair
Kazan Fair (Казанская ярмарка) holds over 40 events annually. Thousands of companies from over 40 countries take part in them. These events are visited by at least half a million people annually.
If your goal is an exhibition or a conference, then it makes sense to stay in the near proximity of the congress center. It will help you save time on commuting here and back, especially if you work at the exhibition from an early morning, or if you have planned a number of meetings at the event.
Kazan Fair is located in a picturesque place near the lake Sredny Kaban. The congress center makes an interesting impression and reminds of Moscow's VDNH. Actually, Kazan Fair buildings were initially designed to be a branch of Moscow's VDNH with permanent exhibitions on the territory of the Republic of Tatarstan. The architecture of the complex only benefits from that idea and creates an impression of splendor.
If you want to book a hotel near Kazan Fair, I recommend to take a look at the Hotel on Rotornaya, and Davydov. Both of them are located not far away from the exhibition center, near the underground station, so if you don't want to walk all the way to the Kremlin (it would take you 30-40 minutes), it will be faster and more comfortable to take a metro train. Within an easy reach from all hotels there is Kazan Botanical Garden – this is a great place for families with kids.
Water Theme Park Riviera
Water Theme Park Riviera (аквапарк «Ривьера») is not just a theme park. It is a large entertainment complex that includes a hotel, restaurants, a bowling alley, a cinema and a lot of shops. If you want to have some fun, then Kazan Riviera is your choice. The room rate includes tickets to the water park, and in summer you can visit a beach and a pool.
However, to reach the city center, you will need to use public transport, but if it is not your first time in Kazan and you come specifically for the theme park, don't have any doubts – stay at the Riviera.
Things to Consider When Choosing a Hotel in Kazan
Kazan is a very popular tourist destination, a place where international sports events and exhibitions are hosted on a regular basis. This means that there might be issues with booking the hotel that you like the most. If you are flexible with the dates, then it is better to change them and pick a time when Kazan will not host any events that attract thousands of people.
But if you can't change the dates of your trip or if you actually come for one of these events, the only solution is to book in advance. If possible, book an accommodation in the central district of the city, near the Kremlin where most of tourist attractions are located. If you keep in mind that hotel rates in Kazan are reasonable, and the quality/price ration is very impressive, this is your best choice.
However, still pay attention to feedback on booking websites. As a rule, they will provide you with all the required information about the quality of the service. But I would recommend not to pay attention to the "stars" given by tourists, except for the cases when they are extremely low. Sometimes tourists give less points only because they did not like available TV channels, or if they were not checked in before time that was mentioned on the hotel's website. Such feedback is a good tool to understand if that is the place that serves all your needs.