If you plan a trip to South Korea that will last more than one week, most probably you would not want to spend all this time in Seoul, even though the city is amazingly beautiful. You would definitely want to visit other regions of the country. From this perspective, Gyeongju (경주시) is one of the most attractive options because along with the capital of the country it is one of the most important tourist centers of South Korea. It goes back to old times when Gyeongju was the capital of the ancient kingdom of Silla: back in the 7th century an impressive number of more than one million of people lived there! This powerful country and its achievements deserve a separate more detailed article. But it helps us understand that Gyeongju and its surroundings boast an incredible number of tourist attractions: ancient temples and pagodas, Buddhist monasteries, burial mounds of the Silla kings, gardens with pavilions, and even an ancient observatory. In recent years there have been efforts underway to rebuild the most remarkable Gyeongju buildings of the Silla period the ones that have not been preserved: a splendidly decorated bridge over the river, a famous multi-layered pagoda, villages with ethnic-styled houses.
You can see all the above-mentioned landmarks as they fit into the early Middle Ages period in the local tourism office where a captivating 3D-movie about Silla is demonstrated all day long. Of course, you can also explore the remnants of bygone splendor. You can go on foot because the city itself and the nearby surroundings within a three km radius have foot-walks for pedestrians, in some areas there are even pedestrian zones where vehicles are not allowed. You can also rent a bike. By doing so you will be able to explore the area within the radius of 15–20 km. As an option, you can combine walking on foot and riding the bike with taxi rides because that will not be expensive here. Finally, you can even increase the area you want to explore by renting a car.
In other words, if you want to see at least some parts of those treasures hidden in the city surroundings, then you should plan at least three days for this part of the country; but even a week here might not be enough if you plan your visit more detailed.
What Area is the Best to Stay in Gyeongju?
Gyeongju is a pretty large city, that is why it is very important to choose the district to stay in wisely, so that after a long experiences-filled day and a generous dinner you would not have to take extra time to reach your hotel on the other side of the city. By the way, if you travel in Korea by car, you should not have any real problems with parking in the province: as a rule, hotels do not charge for parking but you still should pay attention to the booking conditions.
Railway Station in Gyeongju
Gyeongju Railway Station is located a bit away from historical sights of the city but at the same time this distance is not critical: for example, you can reach the burial mounds on foot within 10-15 minutes. On the other hand, you will only be in the railway area two times: when you reach and when you depart. And all the sight-seeing will be done on foot or by local transport (bikes, city buses, rented cars, taxi). In my opinion, it makes sense to stay in this area only if you travel by car or if you plan to explore Gyeongju using your own bike (or the bike provided by the hotel). Hotels in the railway station district have sound-proof rooms, so you would not be disturbed by any noises. Plus, there are no homeless people here or any other negative aspects, so you can choose a hotel in this area without fear. I would also like to add that star ratings that are shown on booking websites for hotels do not always reflect the real level of comfort. In case with Korean hotels, even one star should not scare you away. Often it only means that there is no TV set or a fridge in the room, and if you are fine with that, you can go for booking this particular hotel. But of course you should still keep in mind feedback of other travelers. Good accommodation options in this area are Mini Hotel 141, Gyeongju Momojein Guesthouse and Gyeongju Friend Guesthouse.
Gyeongju Bus Terminal
Another transport hub in Gyeongju is the bus terminal, located on the other side of the city, near the river. In my opinion, finding accommodation here is the most convenient option: local tourism office is located nearby, and here you can get a map of the city and surroundings (free of charge), as well as receive recommendations about tours. In the neighboring street there is a number of bikes and scooters rental centers; plus, there are some restaurants with home-made food. It is also a great starting point for your adventures in the city: just cross the river and you are on your way! Besides, on the other side of the river there are farmers' greenhouses. The smell of strawberries from there in the beginning of May is mouth-watering, and you can buy fresh strawberries right there. The location is also great to explore the city attractions: 5 to 10 minutes on foot to the burial mounds, Cheomseongdae Observatory is around 15–20 minutes away. In this area you can take a look at the Gyeongju GG Tourist Hotel (there is a bike rental center just across this hotel), Sugar Hotel and Maison Mini Hotel.
Center of Gyeongju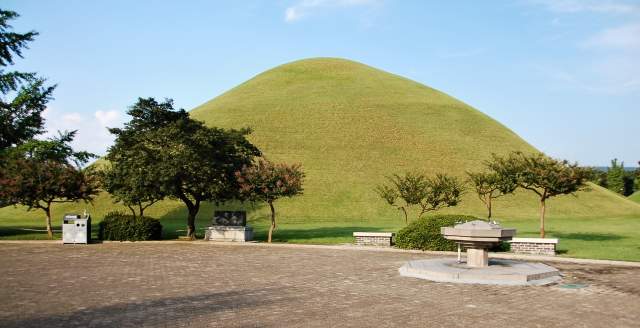 The city center includes parks with burial mounds of the kings (it is prohibited to climb them but many beaten path tracks indicate that some people find their way to the top anyway). Some of the burial mounds are located in the middle of parks, others are situated in the fenced part of the park where there is a pine forest with squirrels, a small lake, and one of the burial chambers is open for visiting. By the way, visiting most of the city sights in Gyeongju would not cost you anything, and the entrance to the rest of them costs next to nothing (about 1 US$). In the night the park and burial chambers are illuminated. In this district of the city there are a few hotels that can boast the view at the burial mounds. For example, you can take a closer look at Gyeongju Bee House. The district is also notable because it is situated between the bus terminal and the railway station. Besides, from here you can easily reach highway No.4. Another advantage of this area is the abundance of stores and restaurants.
To the South-East from the city center there is another park with burial mounds; here you will also find Cheomseongdae Observatory and a rebuilt part of an ancient village that had used to be a part of the ancient capital of Silla kingdom. The bus terminal is 10–12 minutes on foot from here, the railway station is 30 minutes away on foot (or 5 minutes by taxi), and everything around is definitely worth seeing. But the most important thing is that this particular district gives you an opportunity to live in a traditional Korean house (I will add some information about these houses a bit later), for example, in Hanok Raon, Adam Guesthouse or in Hwangridangil Adamjeong.
Bomun Lake
Around six kilometers to the East from Gyeongju there is a large Bomun Lake. This area has been made by local authorities into a resort area: there is the theme park Gyeongju World here, plus, here, in the Expo Park exhibitions are held, and you can also see plays in the Summer theater here. This district is really great if you plan to have a holiday at the lake (local hotels provide spa services), visit a theme park and also explore great places of Gyeongju that are easily reachable by car. This place is great for travelers who prefer modern chain hotels with swimming pools, golf courts, bars on the roof and room service. All of it can be found in such hotels as Hilton Gyeongju, Lahan Select Gyeongju, The Suites Hotel Gyeongju.
The Area of Bulguk-sa Temple
Finally, 13 km to the South-East from Gyeongju there is Bulguk-sa Temple the Buddhist Temple that is included in the UNESCO World Heritage List. This is one of the most important attractions in South Korea and a very worshipped place. So, if you want, you can book a hotel in the proximity of the monastery – the landscape here is beautiful with views to the forest-covered hills, and on the way back from Gyeongju you can also see some burial chambers. Here I recommend taking a look at the Brown Dot Hotel Gyeongju or a nice guest house Gyeongju Roamers Stay. It makes sense to stay in this district if you travel by car. But then you can always book a taxi or a transfer in the hotel.
Things to Consider When Choosing a Hotel in Gyeongju
I would like to cover some common characteristics of hotels in South Korea.
The star rating of hotels in South Korea is very subjective. That is why when choosing a hotel it is recommended to focus not on the star ratings but on the room description and the services provided. Plus, you have to pay attention to check in and check out times (they might differ from the ones you are used to) and also, if breakfasts are complimentary or not, if taxes and service fees are included in the room price (sometimes they might reach 20% of the room price).
Both, world-famous hotel chains (such as Holiday Inn, Hilton or Ramada), and local chains (for example, Lotte) are presented in South Korea. These hotels provide a uniform set of services, no matter what place you are in – South Korea, Paris or London. It makes sense to stay in a familiar to you hotel chain if you do not want any local flavors but instead expect some predictability. Prices, however, will also be predictably high – from $100–120 and more per night. However, there are always certain aspects that you should pay attention to, that is why you should always check feedback about this hotel. They can tell you, for example, that free Wi-Fi is available only to members of the hotel chain, that the next year the hotel is to be renovated, and that you should come to breakfasts earlier or you will not have any food left for you. Some feedback might be irrelevant to you (for example, I do not really care if a hotel has rooms for smokers or if there are channels in specific language), but at the very least you will be able to receive a general idea of the hotel.
Korean chain hotels are close in style to European or American chains, but there will still be some local flavor added. For example, bathrooms in Korean hotels are often equipped with cutting edge toilets that are controlled by a number of buttons (pretty easy to handle though). If you plan a trip in summer, you should check if there is air conditioner in the room, as for the cold weather, you do not really have to worry about that because the hotels will most probably have heated floors or slippers. In some hotels you will be asked to take off your shoes before you enter the room. Shoes left in the corridor will not be cleaned, as a rule, but you will be provided with slippers. However, if you are afraid for your shoes, you don't have to keep them outside the room – Koreans are a very polite nation and they will just write it off to you being a foreigner.
Apartments, motels and ethnic styled houses are more budget friendly than hotels.
Local apartments can be of two types: "almost a hotel", such as chain apartments Fraser, when the room has also a kitchenette with utensils and daily services (change of bed linens, cleaning, etc.), and "almost an apartment" where there might be several rooms and a kitchen, when the cleaning is done upon your checking out and where you do not depend on anything or anyone. The advantages of staying in an apartment are obvious: you can cook your own food from products you like or heat up the food you purchased in the market, and you can have meals at the time convenient for you. In Europe this will help you save on meals' cost. However, in South Korea you will not be able to save much on cooking your own food: eating out will cost you almost the same money. That is why it is recommended to eat out at most times, and maybe only have breakfast and light lunch or dinner in the apartment. Apartments provide more freedom than apart-hotels ("almost a hotel") but you should always keep in mind that in most cases you will not have a 24/7 reception service and personnel that can help you with almost any problem, there will be no daily cleaning, room-service and ready-made breakfasts.
An interesting option would be Korean motels. Unlike their American siblings, they are not necessarily located in suburbs or close to main highways, they can easily be situated in the city center (for example, in Gyeongju most hotels are located in the city center). There is a common perception that motels in South Korea are used by young people who go out on dates because as a rule, local youth lives with their large families and do not enjoy any personal space. Partly, it is so, but if you pay attention to feedback on these motels, you will see that common travelers also often stay there because as accommodation options they are reasonably priced and conveniently located. There is some ambiguity in motels' decoration, especially if you pay close attention to that: there might be dimmed light in halls to keep people from embarrassment, entrance to the parking lot is decorated with special boards, personnel does not show any signs of extra curiosity, and breakfast is as a rule brought to the room. At the same time, motels have a number of advantages in addition to the low price: the owner wants you to like his place, so he might suggest meeting you at the railway station and provide transfer on your way back; rooms in motels (especially the ones with higher prices) are equipped with satellite TV and free of charge Internet, and a bathroom might even have a hot tub, with additional compliments, such as shower gel, shampoo with hair conditioner, and bath salts, and in some places even facial masks. Motel owners usually keep in mind that their guests are not necessarily locals. The owner, as a rule, can speak English, some motels provide instructions in English where they explain how to use utensils sterilizers or how to set up Internet access. In other words, motels target travelers too and are equipped with all necessities that makes you feel like a welcome guest there, and not just another random person who stays for a night or two.
Additionally, there are hotels in traditional Korean houses that are called Hanok. These are houses with original roofs that are pictured on beautiful advertisement booklets about South Korea. The main advantages of such houses are the materials they are built from (wood, stones, clay, straw, and rice paper only environmentally friendly materials), and their authenticity that is how people in Korea have been living since the early Middle Ages. The most impressive thing about these houses for me was their heating system (it is called Ondol) – there are pipes under the floor, hot air from firebox or stove passes through these pipes and makes the floor warm even in winter. In these houses, especially considering warm floors, there is no need for beds, that is why people sleep on the floor – from here comes the tradition to keep shoes outside, because inside the room you walk barefoot. In some districts of the country you will find quarters of such houses; in Seoul they are made into restaurants, stores, workshops, and some of them have been turned into hotels. I think that if you want to completely submerge into the Korean culture atmosphere, Hanok is one of the most interesting accommodation options.