Sochi is a summer capital of Russia, the gem of the Black Sea, the city – incredible as it may seem – of the 2014 Winter Olympic Games. The beauty of this resort attracts annually millions of tourists, mostly from Russia, but lately you can see here many travelers from other countries.
In summer, you will find here lots of people who enjoy beach holidays, hot weather, and sun bathing, and in winter, Sochi welcomes skiing and snowboarding fans who can test Olympic slopes. But at any time of the year, Sochi surprises and captivates you with mountain and sea landscapes, positive emotions and experiences.
What Area is the Best to Stay in Sochi?
When you go to Sochi, you should keep in mind that there is the Greater Sochi that is subdivided into a few districts, and there is a city of Sochi that is one of those districts. In this article we will cover the Greater Sochi. It is a little bit confusing but it should become clearer once we discuss the districts in detail.
There are four districts in the Greater Sochi: Tsentralny (Central) City District, Khostinsky City District, Lazarevsky City District, and Adlersky City District. The city of Sochi makes up the Central District which is the smallest district of this agglomeration. Additionally, the city of Sochi is divided into 12 subdistricts, but only the central subdistrict (I understand that it can be a source of confusion of how many central districts can there be but it looks like the government of the region did not think much when it named the districts, so we have to deal with what we have here) can be of interest for tourists.
For the purpose of this article, I suggest taking a look at hotels in all four districts:
Tsentralny (Central) City District
Like I said, in the central district we will discuss the central subdistrict. All of important city sights are located here, including the main attraction – the sea. Here you will find cafes, restaurants, parks, shopping malls – the entire infrastructure of a resort city.
Central Sochi includes the lower and the upper city. Here you should note Gorkogo street and Kurortny prospekt – the embankment is located just parallel the latter. The main sights are located within these streets, and so are hotels.
Just like in any other central district, it is noisy and crowded here. If you are not a fan of loud groups of people and fun parties, then maybe this district is not for you. Plus, hotel rates here are higher than in other Sochi's districts, and if your budget is limited, I would recommend to choose a different district.
I can recommend the following hotels in the central district of Sochi: Sea Galaxy Congress & Spa, Zvyozdny Hotel and Hotel Denart.
Good budget-friendly options are hostels Inzhir and Ostrov Mechty. And if you are looking for some luxury, Hyatt Regency Sochi or Radisson Lazurnaya Hotel.
Lazarevsky City District
Lazarevsky City District is the largest district in the Greater Sochi and is probably the most popular one among tourists coming for a beach holiday. It means that Lazarevsky district provides the greatest number of accommodation options for each budget and taste.
You should understand that the district consists of a few resort areas that are not always connected with each other. If you don't have a car, you will be stuck in the area you picked for accommodation, so it is important to choose carefully.
In this article we will take a closer look at such resorts as Dagomys, Lazarevskoye, and Loo.
Dagomys
Dagomys is a typical resort settlement, you will not find any tourist attractions here. People come to Dagomys for the sea and the sun. The settlement enjoys a good infrastructure. It is probably a bit less sophisticated than on Mediterranean resorts but it is good enough to let you enjoy your holiday.
If you want to have extra experiences, don't forget to visit tea plantations and the Dagomys forest waterfall.
Dagomys is located not far from Sochi city center, you can take an express train and reach the city in just 15 minutes.
In Dagomys I recommend to take a closer look at the Dagomys Hotel Complex, Hotel Zolotaya Orkhideya, Hotel Kolizey, and Delfin and River Guest Houses.
Lazarevskoye
Unlike Dagomys, Lazarevskoye is a larger subdistrict, there are even some interesting tourist attractions here, such as Nativity Church, and old fortress' ruins. But of course, above all, Lazarevskoye settlement is a resort area with all the relevant infrastructure, including a water theme park, a dolphinarium, and a sea aquarium.
The settlement's surroundings are also worth mentioning, for example, canyons and waterfalls that you can explore if you get too tired of the beach.
There are not just many hotels in Lazarevskoye, there are probably too many of them. Expensive hotels, affordable guest houses and apartments – there is accommodation here for each taste.
I recommend such hotels as Marco Polo Sochi, Villa More Guest House, Lazurnoye Okno Hotel, and Maestro Hotel.
Looо
Loo is another popular resort settlement in Lazarevsky City District. It is well-known also because of the medieval church ruins and the largest water theme park in Sochi. The central beach of Loo is considered to be one of the best in the region. The nature here is also very impressive. For example, you can see 33 waterfalls on the Dzhegosh stream or a waterfall in Sochi national park.
In Loo I recommend staying in one of the following hotels: WaterLoo, Turmalin, or Olesya Loo.
Khostinsky City District
Khostinsky City District is located south-east to the Central district. This place will be perfect for those who want to enjoy peace and quiet, and also maybe receive some spa treatment. Khostinsky City District is home to famous Matsesta with its sulphur springs. A lot of mountain treks start here as well, in particular, a trek to Akhun mountain – one of the main sights in Sochi.
It makes sense to stay in Matsesta only if you come here for spa treatment. Then you can consider such accommodation options as health resorts Zelyonaya Roshcha and Zelyonaya Roshcha VIP.
If you would rather enjoy beach holiday, then in this district you should pay attention to the Khosta settlement. It is not a very interesting place in terms of architecture and historical monuments but you will be fully compensated for this because of the Yew-and-Boxwood Tree Grove, the area included into the UNESCO world heritage.
If you plan to stay in Khosta, I recommend taking a closer look at Green Khosta, Avtomobilist and Villa Atmosfera.
Adlersky City District
Adlersky City District is the place where winter sports fans (skiing and snowboarding) come. No, of course, Adler is open for tourists in summer too, it has great beaches. It is probably the most "touristy" place of the Sochi agglomeration. The place has a great tourist infrastructure, including the airport and the railway station where most of trains arrive. There are lots of tourists here at all times and subsequently very high hotel rates.
In Adlersky City District, Adler and Krasnaya Polyana are worth mentioning.
Adler
Just like any other resort city, Adler cannot boast a lot of tourist attractions. The only exception is probably the local botanical garden – without any doubt, the best one on the Black Sea coast.
Some tourists visit the Olympic park but you can only see sports facilities from outside, so it is not really much fun. At the same time, here you will find Formula One racing street circuit, and if you have some (read: a very large) amount of money, you can get a chance to drive Ferrari F430.
For families with kids there are a lot of attractions in the city, such as a dolphinarium, a sea aquarium, a water theme park and even a Theme Sochi Park located near the Olympic park.
Considering that Adler survived tourists crowds during the Olympic Games you can be sure that there are more than enough hotels here. You will be able to find both luxurious and budget-friendly options here.
I recommend taking a look at the following hotels: Zara, Weiler Hotel, Citrus and Abris. Some less expensive options include hostels Friendly and Very Hostel Adler.
Krasnaya Polyana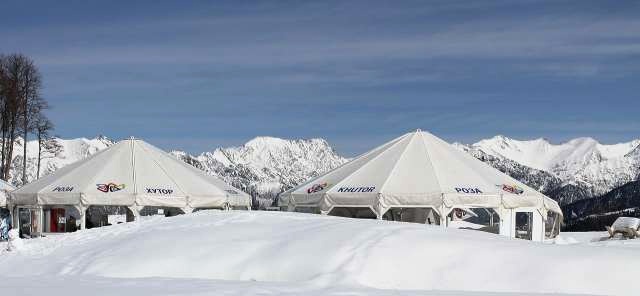 Krasnaya Polyana along the Mzymta River includes settlements Krasnaya Polyana and Estosadok with ski resorts Rosa Khutor, Gornaya Karusel, Alpika Service, and Gazprom. This district is known to the world as the mountain cluster of the 2014 Olympic Games. Thanks to the Olympic Games, Krasnaya Polyana enjoys a great tourist infrastructure, including shops, cafes, restaurants, a cinema, night clubs, a bowling alley, and of course, pistes. You can reach this area by car, or by trains or buses from Sochi and Adler.
Even if you are not a fan of skiing, Krasnaya Polyana is still worth visiting – it is a unique place with picturesque mountain landscapes, rivers, and lakes. And in summer, Krasnaya Polyana is as beautiful as in winter.
In the Krasnaya Polyana district I recommend paying some extra attention to hotels Ray-Ski-Domi (Krasnaya Polyana), Dolina 960 (Estosadok), Solis Sochi (Estosadok), Gorny Khrustal (Krasnaya Polyana).
As for hostels, a good choice is Krasnaya Polyana in the settlement of the same name.
Things to Consider When Choosing a Hotel in Sochi
Sochi is a large territory, and the choice of a district and a hotel for accommodation largely depends on the purpose of your visit.
If you aim for just a beach holiday, then Lazarevsky District would be a good choice. If you are , choose a place to stay in Lazarevskoye, and not in Dagomys or Loo.
If you want to take some day trips and see the mountains, your choice should be Adlersky City District. And if you come for skiing, there is no better option than Krasnaya Polyana.
Khostinsky district is a great option for a peaceful and quiet family holiday. However, if your kids are up for some adventures and active fun, then maybe you should go to Adler – this is the most kids-friendly place in Sochi.
Adler is also the place with the most number of hotels. There are lots of budget-friendly mini-hotels here, opened just before the Olympic Games. If you are searching for something more luxurious, then the Central District of Sochi can offer you a few five-star hotels of great quality.
Sochi is a resort city, hence hotel rates depend largely on the season. July and September are the most expensive months. In summer, everything is expensive here, except maybe accommodation in Krasnaya Polyana where the high season lasts from October to April. At the same time, you should understand that visiting Sochi off-season does not make much sense, there are no great tourist attractions in the city. However, if you don't like beach holidays very much but would rather just enjoy the mountains and sea views, then it would make sense to wait for lower prices (and less people in Sochi) and enjoy walks in the forests and mountains of this beautiful region.