Millions tourists visit India every year. Most of them prefer well-known tourist routes – the beaches of Goa or the famous Golden Triangle (Delhi – Agra – Jaipur), but there are also people who prefer exploring less popular but still very interesting places. The majority of tourists, especially those, who come to India for the first time (and do not plan a beach or a party holiday), arrive in Delhi.
Someone stays in Indian capital for a week or even longer, for some this is only a transit point in their journey where they stay for a day or two before travelling to other parts of this beautiful country of contrasts.
You should keep in mind that if this is your first trip to an Asian country, you are bound to experience the culture shock. Someone once said, that there are two types of people: those who fall in love with India on their first arrival, and then come here again and again, and those who are very disappointed and would never set a foot in this country.
The same is valid for certain cities, too. When you come to Delhi, you will either fall in love with the city's culture, cuisine, multifacetedness, certain chaotic nature, incredible opportunities for shopping and ancient traditions that you will see even in the tiniest of details, or you will hate this city for its noise, smell, dirtiness, crowds and uttermost disregard of all rules. To a large extent it can be explained by the fact that once a European or an American tourist ends up in this huge megalopolis with population of over 16 million people, where different (often unknown) cultures, styles, nationalities are mixed, he or she can easily feel confused.
Before you go to India, you should have a clear idea of what kind of country you are visiting and what is your goal there, and you should be ready to strange or even bizarre customs of locals. At the same time you should not forget that Indian civilization is at least five thousand years old, and you will definitely find here something to explore and something to wonder about – this country in general (and Delhi in particular) is worth giving the second chance, if your first impression was not the nicest.
Practically, your fist impression of the city will highly depend on the place where you are going to stay. If you pick accommodation in the wrong area, your vacation will be ruined, and your opinion of India will be biased because of this striking conflict between expectations and reality.
Administrative Division in Delhi
In order to more successfully navigate in Delhi, you need to have a clear idea what districts the city consists of and where are all the sights you plan to visit located. Unlike European cities, where all the main attractions are more or less located centrally, not far from each other, New Delhi's most popular tourist sites are scattered throughout the city; and to see everything you would have to travel between different districts. That, however, is not that bad, because it will allow you to fully enjoy the atmosphere and the cultural and national flavor of the Indian capital.
Formally, Delhi is divided into nine districts with three sub-districts in each of them. For travel purposes you don't really need to know all this information, as not all districts and areas are good enough for staying there or have the best location for visiting main tourist attractions. Moreover, different sources can provide different information about particular districts and their names, that can be explained by the fact that official names differ from the names local citizen use to identify the area.
That's why in this article we will only take a look at three districts: Central Delhi, New Delhi and South Delhi.
Central Delhi is the business district. But here you will also find a lot of historical landmarks, including the Red Fort, the principal mosque of the city Jama Masjid, and the Old Delhi. I should note that this district is a good bet for tourists on budget, here you will find such subdistricts as Karol Bagh, Chandni Chowk, Paharganj. They are well-known thanks to their cheap prices and authenticity among travelers from around the world arriving in Delhi. Also, here, in the district of Paharganj (or Main Bazaar) there is one of the main railway stations in Delhi (New Delhi Railway Station).
New Delhi's architectural style is more thought over compared to the Old Delhi. Here you will find lots of parks, shopping centers, spacious boulevards. You can clearly feel the British influence when you are here. However, in this district you will also find lots of historical landmarks. For example, the famous India Gate or Humayun's Tomb. The most famous area here that would be of interest for tourists is Connaught Place, or, as it is referred to by locals, CP. Here you will find numerous banks, international companies, travel firms, hotels, shops and restaurants.
Finally, South Delhi is a unique blend of modern and ancient culture. Here you will find the most interesting historical landmarks, including the renowned Qutub Minar and Lotus Temple. The district has been actively developing for the last few years and today you can find here modern malls, spacious streets and lots of greenery. South Delhi is a lot different from the chaotic Old (Central) Delhi. Hotels here are usually more expensive, even though you can find something budget friendly too, if you look harder.
What Area is the Best to Stay in Delhi?
Now I suggest we take a closer look to the above-mentioned districts, so that you have a better idea of them and could choose a hotel that is most suitable for you.
As you see, tourist attractions in Delhi are scattered in different areas, and the distance between these areas is so large that you can't cover it on foot, so you will definitely have to use some kind of transportation, be it metro, auto rickshaws, cycle rickshaws, taxi or a rented car. So, the main criteria for the selection of a hotel should be the goal of your visit and the amount of money you are ready to spend for accommodation in Delhi. An additional criterion, which, however, can become an issue for many travelers, is the extent to which you are ready to put up with noise and the lack of the usual comfort.
Central Delhi
Central Delhi is a very convenient district for tourists. Here you will find famous landmarks, railway stations and all flavors of Indian culture and life style. It is convenient for those who plan to stay in Delhi for a couple of days and then want to explore the country by train. If you are one of these tourists, then Paharganj (or Main Bazaar) is your choice. Hotels (rather, guest houses, though) are here practically in each building. Most of them don't have a website, and you can only find out about them if you go through lots of tourist forums in Internet, their contact details are passed by word of mouth.
Actually, you don't even have to book in advance. You can simply come to the area and go from house to house, choosing an accommodation you like and bargaining with the owner. Here you really should pay attention to the overall cleanliness of the room, bed linen and towels, availability of hot water (because sometimes it can only be there in the morning and very limited, at that). In addition, it is very noisy here at any time of the day. All drawbacks are compensated by the price (for those travelers who are on a tight budget). Accommodation here is really very cheap. That's why you will find here lots of backpackers from around the world.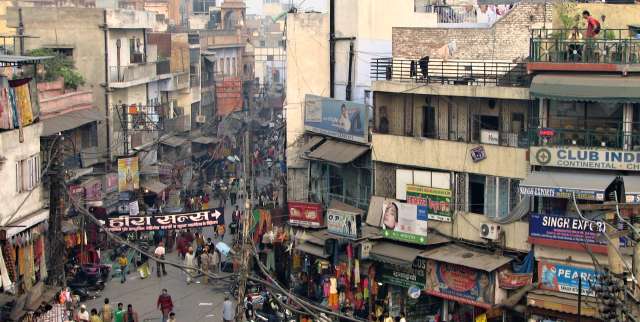 Some of good options for accommodation in this district are such hotels and guest houses as Hotel City Star, Smyle Inn and Hotel Payal.
Hotel City Star is considered by many people to be one of the best in the area of Paharganj. The rates here are above average for this district but for your money you get a decent level of comfort including a coffee maker in the room and free of charge Internet connection. Here you can ask for a free transfer from the airport, and the railways station is a 5-minute walk from here. If you worry about the noise, ask for the room that is facing small streets at the other side of the hotel.
Guest house Smyle Inn is also located in Paharganj, but a bit sideways. Thanks to that, the noise is not such a big issue here. This is a great option for those who want to save on accommodation, so you should not really expect any extra level of comfort here. Clean rooms, hot water, a decent breakfast and 24/7 Internet – these things you can count on here.
Hotel Payal is the most budget-friendly option out of three. It is located in the center of Paharganj, there are lots of small shops, cafes and restaurants here; it is very loud during the day, but in the night it is not that noisy, especially if you ask for the room with windows facing the opposite street. Hotel's owners are very friendly (which is not that rare in India) and they would be happy to tell you how to spend your time in Delhi, and also help you arrange not expensive tours.
Karol Bagh is located a bit farther to the west, and has already got a reputation of the second Paharganj. You can reach here by metro. The district is more or less like the one I have just described, except that it is probably less noisy as it is located not that close to the railway station.
Here you can take a look at such options as Shimla Heritage, Sunstar Heights and Yug Villa.
Shimla Heritage offers its guests a free transfer to and from the airport. The rooms are modern and comfortable, you can make tea or coffee. The hotel is located near a metro station and many shops, it is a great option for those who enjoy shopping.
Sunstar Heights is similar to Shimla Heritage in terms of location, comfort level and cost, and Yug Villa is a bit more expensive and it is located a bit farther from the train station (but pretty close to the metro station). Here you will never have an issue of not having hot water, rooms are clean and cozy, have air conditioners, a kettle and a coffee maker. Additionally all guests have free Internet access. To sum it up, this is a great choice for those who want to be in the center of the action but have some relative comfort for reasonable money at the same time.
I think that the best option in Central Delhi is to choose an accommodation in Chandni Chowk. This area is located to the north from Paharganj, is a bit more expensive, but quieter, even though still noisy. You should understand that noise is inevitable in India. Indians see it probably like some indispensable part of their life that they do not even notice anymore. Believe me, after a week in India, you will not notice it, either.
Chandni Chowk has less accommodation options than Paharganj and Karol Bagh, but some of them are very decent, for example, Tara Palace. This hotel is located in the center of this district but on one of the side avenues that provides for relative seclusion and peace at nights. The hotel has also a great location for visiting landmarks of the Old Delhi. The Red Fort and Jama Masjid can be reached within a few minutes. This district and hotel are usually a top choice for Indian tourists. Rooms in this hotel are quite spacious and cozy, the hotel also provides a free transfer from the airport.
New Delhi
New Delhi district, or more specifically, Connaught Place, is in my opinion, a perfect place for those tourists who would like to pay a bit more for comfort, stay at the heart of all actions and explore the authentic atmosphere of India. Connaught Place is well-connected. There is the metro station Rajiv Chowk, besides, you can always hire a taxi or use the services of numerous auto rickshaws. From here you can easily reach the main attractions, there are great shopping options here, and you can always find a great place for lunch or dinner – both Indian restaurants, and restaurants with western cuisine that you are more used to.
If you require more comfort, head to the south of this district (Janpath and Sansad Marg) where luxurious 4- and 5-star chain hotels are located. They offer all standard services for a great vacation. Here I recommend to take a look at such hotels as The LaLiT New Delhi or Radisson Blu Marina Hotel Connaught Place.
These two hotels are middle priced for this area (yet, keep in mind, they are not for travelers on a tight budget), their rates are somewhere in between the rates of The Imperial, The Metropolitan or Shangri-la and more budget-friendly options.
The LaLiT New Delhi is located in the center of Connaught square and offers the best comfort to its guests, including spa facilities, a pool, and 7 restaurants. The railway station can be reached within 10 minutes. Rooms are very comfortable, and equipped with a kettle and a coffee maker. The only disadvantage is that you will have to pay for Internet, but in general, this hotel is a great option for tourists that would like to have more comfort during their vacation.
Radisson Blu Marina Hotel Connaught Place has more or less the same rates. Here you can also enjoy spa services, and hotel's employees would be happy to assist you with arranging your holiday in Delhi. Metro station Airport Express Line from which you can easily reach the airport is just 150 meters away.
To the north from here there are more budget-friendly hotels, but they are in a very high demand, so you have to book them well in advance. Here you can take a look at Rams Inn and Prem Sagar Guest House.
Rams Inn is a bed&breakfast accommodation and is located just 600 meters away from the metro station. Rooms in this hotel are small but cozy, they are equipped with an air conditioner, satellite TV and have free Internet. The hotel is a little sideways from the main streets, so the noise is less of an issue here and you can have a proper sleep.
Prem Sagar Guest House, as you can understand, is a guest house, and has the corresponding level of comfort. However, the place is pretty cozy, there is Internet, satellite TV and an air conditioner in the room. You can reach Connaught Place on foot in 10 minutes, the railway station is just one kilometer away, the Jantar Mantar observatory is around the same distance away, and a little bit farther (one and a half kilometers away) there is the Birla Mandir Temple.
South Delhi
South Delhi is perfect for those tourists who want comfort and peace during their stay in Delhi. On the one hand, you will enjoy a relaxing holiday in one of the most unique areas of the city, but on the other hand, you will lose the opportunity to experience the chaotic atmosphere of Central Delhi and are likely to see a different Delhi, with less flavors and colors. You should decide for yourself what is more important. However, if you decide to stay in this area, take a look at such hotels as Bloomrooms and Saket Bed and Breakfast.
Bloomrooms is an excellent choice for families, couples and business travelers. This is a new modern hotel with an excellent level of comfort. The level of the hotel is confirmed by the Tripadvisor Travelers' Choice Award 2014. The hotel provides a free transfer service from the airport and free WiFi for its guests. The Humayun's Tomb and Lodhi Gardens are just 5 minutes away, the India Gate can be reached by metro (the metro station is just a 2-minute walk). It will take you just 7 minutes. Rooms have air conditioning, a safe and satellite TV. Guests are also provided with bottled water. In general, a great choice for tourists who are used to a certain level of comfort.
Saket Bed and Breakfast is one more bed&breakfast accommodation with a convenient location near the metro station. Each room has a balcony, a kettle, a coffee maker and a microwave. Nearby you will find major shopping centers. Qutub Minar is just 2 kilometers away.
Things to Consider When Choosing a Hotel in Delhi
Choosing a hotel in Delhi is a big deal. It is important to understand that the standard hotel stars categorization is applied here in accordance with local traditions and perceptions about comfort.
There are probably thousands of accommodation options in Delhi. In addition to reputed world-class international and Indian hotel chains you will find here lots of hostels, guest houses, and apartments.
For most budget travelers the best option is a guest house. Here you can bargain and they do not have to be booked in advance. If there is no room in one guest house, you will sure find a room in the guest house nearby. But you should always keep in mind that in many of these accommodations you will not find clean bed linen, but you might find unexpected neighbors, for example, unknown kind of insects, and often you can see the rust on bathroom equipment, plus, the availability (or rather the lack of it) of hot water can easily ruin your vacation.
So, when you choose cheap accommodation, you probably should book it in advance, or select a few options beforehand and bargain when you are already there, knowing what you can expect from a particular guest house.
Usually the guest houses apply the rule of 24 hours. If you are checked in at 5pm, then you can leave at 5 pm, and not before noon, as you would be forced to do in most hotels. However, these aspects should be discussed in advance (during the check-in) with the owner of the accommodation.
And the most important advice is, that when you go to India, in general, and Delhi, in particular, go with an open mind and in a good mood, understand that there will certainly be a culture shock and you will have to face difficulties and surprises, some of them when choosing a hotel and staying in it. Everything here is different, and if you are not ready for this, you will not be able to enjoy your holiday.