Amsterdam, the capital of the Netherlands, is a large financial and cultural center known for its loose morals. Many tourists when thinking of Amsterdam think of coffee shops, the Red Light District and indiscreet youth having fun night after night. There is no point in denying that it is all there. However, people also want to visit the capital of the Netherlands because this is a very beautiful city with picturesque canals, charming historical downtown, a huge number of museums (Is there anyone who has not heard of amazing Dutch painters?), and numerous festivals – these are things that attract over four million tourists annually to this wonderful city.
What Area is the Best to Stay in Amsterdam?
The city itself is not very large, a little more than 700 thousand people live here. It is divided into seven districts and you can easily reach the historical downtown and the main attractions from each district.
But for tourists only two districts – Central (Centrum) and South (Zuid) districts – are of interest.
Let's take a closer look at them so that you have an idea which one would better serve your purposes if you decide to stay in Amsterdam for a few days.
Central District of Amsterdam
The central part of Amsterdam consists of a few smaller subdistricts located in the heart of the city: Jordaan, Grachtengordel, Jodenbuurt, De Plantage, Nieuwe zijde, and Oude zijde.
Let's start with Oude zijde (the Old Side). This district is what we call the historical center of Amsterdam – its Old Town. Today you will find here all traditional attributes of the "Old" Europe – old architecture, one-of-a-kind atmosphere of an European capital, cozy restaurants, and large tourist crowds.
Oude zijde is the beginning of all tourist routes in Amsterdam. The district is bordering on the Amstel river, the Oudeschans canal, and on one of the main streets – the Damrak street. If it is important for you, the Red Light District is also located here.
Good accommodation options in this area are hotels Park Plaza Victoria Amsterdam, ibis Styles Amsterdam Central Station and Hotel CC. They are conveniently located near the central railway station, and you can reach the Dam square on foot within 5-10 minutes.
More budget-friendly options here are Hotel The Exchange and A-Train Hotel.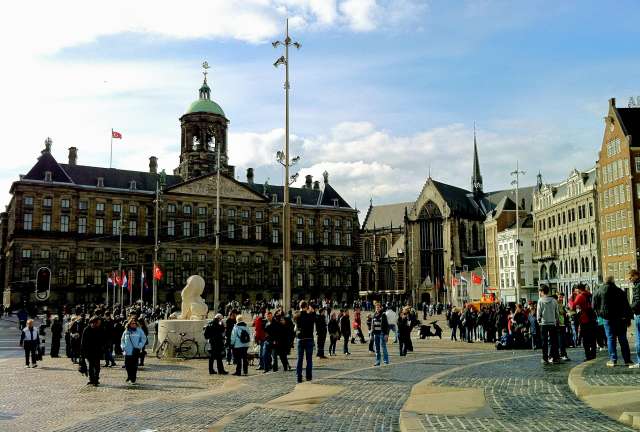 To the east from the Damrak street and to the south-west from the central station there is a small district Nieuwe zijde (New Side). Do not let the name fool you, the district has been existing at least since the 15th century – that's when the Nieuwe Kerk, or the New Church, that gave the name to the district was built here. For tourists the district is important because that's where the famous Dam Square with the Royal Palace is located. This square has been the center of Amsterdam for a few centuries. Just like in the Oude zijde, you will find here a great number of historical monuments, churches, medieval narrow streets, souvenir shops, and small cafes.
In the near proximity of the Dam Square you will find a good number of hotels for each taste and budget. But you should understand that this is the most loud district in the city, so if you aren't ready to have crowds of tourists walk literally under your windows, and would like to stay in a quieter area, search for something a bit farther away.
But if the city center chaos is not scary for you, I recommend to take a look at such accommodation options as Hotel IX Nine Streets Amsterdam or Crown Bed and Breakfast Amsterdam. Budget-friendly options here include Hotel Clemens and Red & Breakfast. And if your budget is unlimited, treat yourself to an incredible experience in an amazing Sofitel Legend The Grand Amsterdam located just 300 meters away from the Dam Square.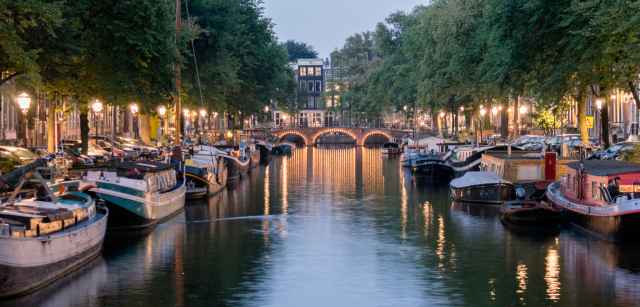 To the east from the central station you will find the district Grachtengordel – there it is – the postcard Netherlands: romantic canals, bridges and fairytale palaces. In 2010, UNESCO officially recognized this district as a World Heritage Site. This small but cozy district with charming local colors is perfect for walks around the city, especially if the weather has been nice to you. Here you will also find two famous sights – the house of Anne Frank, and Westerkerk.
Interesting accommodation options in the area are hotels The Toren (two minutes away from the house of Anne Frank), Canal House (amazing views at the Keizersgracht) and Hotel Sebastian's (10 minutes on foot to Anne Frank's house, and around the same time to the Dam Square).
Grachtengordel is located between the Old Town and the quieter district Jordaan. Jordaan today is probably one of the most interesting city districts. It is confined by the ring of canals (Brouwersgracht, Prinsengracht, Lijnbaansgracht, and Leidsegracht) and consists of dozens narrow intersecting streets with cozy inner yards, and hidden mazes, creating a unique atmosphere.
Here you can stay in the Amsterdam Wiechmann Hotel or in the Linden Hotel.
Two more quarters in the center of Amsterdam worth mentioning are the Jew Quarter Jodenbuurt and De Plantage. They border on each other and the Old Town, and sometimes it is not easy to understand where exactly you are located. In the Jew Quarter you can find the Rembrandt house, and De Plantage hosts the famous zoo Artis and a very beautiful Botanical Garden – two places worth seeing if you come to Amsterdam with children.
There are less hotels in these districts compared to the city center but you can still find good options. For example, the chain hotel ibis Amsterdam Centre Stopera or The Bridge Hotel with rooms featuring great views over the Amstel river.
South District of Amsterdam
The South District of Amsterdam (Zuid) combined three subdistricts Oud zuid, De Pijp, and Zuideramstel.
Tourists will find the Oud zuid especially interesting. Here they will see the famous Museum Square (Museumplein) with four best-known Amsterdam's museums: Rijksmuseum, Van Gogh Museum), Stedelijk Museum, and Diamond Museum. Plus, a luxurious shopping street Hooftstraat and a great park with lakes – Vondelpark are located here as well.
Good accommodation options in this district are Hotel Roemer (it is located just opposite the park, ten minutes away from the Museum Square, Bilderberg Jan Luyken (300 meters away from museums), Wyndham Apollo (just a little aside from the Museum Square but on the confluence of five channels which means you will get great views from the room). Budget-friendly options include hostels Stayokay Amsterdam Vondelpark and Inner Amsterdam.
De Pijp district is loud and bustling. It used to be a bohemian district of painters and designers. Even now the district upholds its reputation. Here you will find a lot of small stores, bars, reasonably priced restaurant offering a broad selection of exotic cuisines. The streets are filled with people from various nationalities. The district might not be suitable for families with kids but would be a great choice for young people who would like to enjoy the experience of being introduced to multiple cultures at once.
In this district you can pay closer attention to the Bell's Boutique Hotel and the ibis Styles Amsterdam Amstel. Additionally, BB by Servio offers a great value for the money.
Zuideramstel is not exactly an exciting district for tourists, it is just a residential area, so we are not going to discuss it here.
Things to Consider When Choosing a Hotel in Amsterdam
Amsterdam is a sensational, dynamic, and fun city. Every day something is happening here, not to mention tourist crowds that are probably common for most capitals of the world. Of course, hotel rates here are higher compared to other cities in the Netherlands. Traditionally, the most expensive hotels are located in the city center, near the Dam Square but at the same time that's the place with the most number of tourists, migrants, and the source for a lot of noise. That's why I recommend to choose a hotel a bit farther from here – all the districts we have discussed in this article are within an easy reach from each other. Practically, you can explore the entire Amsterdam within half a day.
If you want to save some money, there are two options: hostels and city outskirts. The outskirts are not always safe, and are definitely never interesting. Hostels downtown are definitely a better options but you should keep in mind that your neighbors can include noisy groups of people, returning back to the room after a fun night at the coffee shop. Of course, things are not that scary. Some hostels are very family-friendly but in this case you should definitely check the recent feedback on booking websites.
I believe that the most attractive district of Amsterdam for accommodation is Joordan. It is close to the center, there are canals, shops and restaurant nearby – the atmosphere here is fantastic. You can reach the Old Town on foot in just a few minutes, plus, you can rent a bike – it is a great way to explore Amsterdam.