When we go to India we expect to have some unusual new experiences. And it is hardly possible to find this country something more impressive than the famous Taj Mahal, built in Agra in the 17th century by the Mughal emperor Shah Jahan in memory of his wife Mumtaz Mahal. The famous mausoleum is considered to be a symbol of true love and loyalty, is one of the modern wonders of the world and is included into the UNESCO's List of World Heritage Sites.
Taj Mahal attracts millions of visitors to Agra yearly, turning this relatively small by Indian standards city into one of the biggest tourist destination in India.
Of course, the Taj Mahal is not the only unique tourist attraction in Agra, although, of course, people come here for it alone. Nevertheless, the city (and its surroundings) is interesting because of a number of other interesting examples of the 16th-17th century architecture. These are the Agra Fort, also included in the UNESCO's List of World Heritage Sites, the Mausoleum of Akbar the Great, Shah Jahan's Palace with the Pearl Mosque, the Tomb of Itimad ud Daulah and Jama Masjid.
So, there is a lot to see in Agra, and you definitely shouldn't miss it during your visit to India. The question is, though, for how long you should stay here.
How many days to plan for visiting Agra?
I believe it makes no sense to plan more than a day or two in Agra.
It is strange, but despite the status of the tourist center and a good number of unique monuments, Agra is not a very pretty city, and can be quite uncomfortable for tourists. There are hardly any historical buildings left other than above-mentioned monuments. Most of buildings here look like grey concrete blocks that definitely need some restoration and renovation, or at least a couple of layers of coating. Streets are dirty and are filled with crowds of people at almost any time of the day.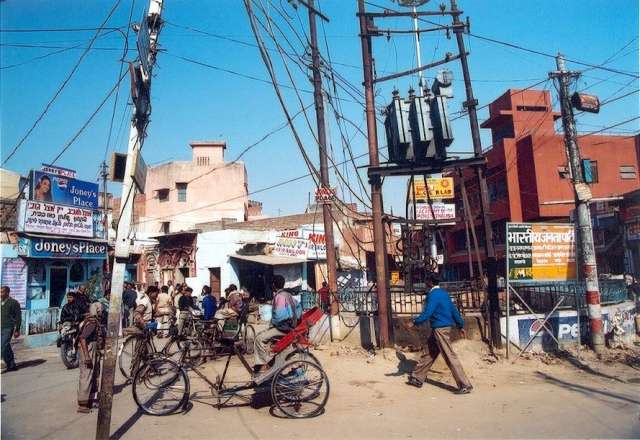 When you are here, you can't help but wonder how come that such great historical monuments like the Taj Mahal and Agra Fort can coexist with these inelegant (for the lack of a less offensive word) buildings, occupying a large area of the city.
Fortunately, you won't have to stay here for a long time. All tourist attractions can be visited in one day, and even that will not be a cursory run-through: use local transport (mainly rickshaws) to easily (and very inexpensive) move between the historic sites of the city. Public transport as the concept we are used to is not available in Agra, however, you can always find an auto- or cycle-rickshaw. You can rent a rickshaw for the entire day or you can use it to just move between two sites, for example, from the railway station to the Taj Mahal.
Actually, Agra is a part of the famous Golden Triangle of India: Delhi Agra Jaipur. These three cities are a must-visit if you are in India for the first time and plan to get acquainted with the history of the country, explore historical monuments, including fortresses, mausoleums, palaces. The Golden Triangle tour is one of the most popular in India also because the distance between these cities is not that huge. For example, it is only 200 kilometers between Delhi and Agra, so you can reach Agra by train in just two hours. There is a great train Bhopal Shatabdi Express, departing from Delhi early in the morning and arriving in Agra around 8 am.
In this regard, the question arises whether it is worth staying in Agra for the night. After all, you can come early in the morning to see the Taj Mahal and the rest of the sights and then take the evening train back to Delhi or to Jaipur.
Of course, if you have a limited timeframe for your holiday, you can do it this way. But, in my opinion, you should stay for a night in Agra, to use the opportunity to see the Taj Mahal at dawn, when it looks completely different in the morning sun. Besides, early in the morning you will not see crowds of tourists in the Taj Mahal, and your impressions of this unique mausoleum will be not the same as when you see it during the day.
After that you can see other city attractions and then in the evening you can continue your trip to other destinations. Just remember that on Friday the Taj Mahal is closed, so please plan your trip accordingly.
What Area is the Best to Stay in Agra?
For the tourist it is always important to choose the right hotel. Even if you stay there for just one night, you do not want to pay the extra money, plus, it would also be nice to have some comfort, and a convenient location from where you can easily get to the Taj Mahal, the Agra Fort, the palace of Shah Jahan and all other places that you have planned to visit.
Choosing a hotel (or a guest house) in Agra it is recommended to take into account low prices and travelers' reviews. Well, if you absolutely cannot imagine myself in some small guesthouse with a minimum level of comfort, you can always choose a large chain hotel (for example, Marriott, Hilton, Radisson, Taj Hotels) but even then you should probably pay attention to reviews on booking websites.
Here we consider both categories of hotels small local accommodation options and large international chain hotels.
We should mention straight away that all the attractions are scattered through the city, and the distance between them is considerable, you can't really take a walk to reach one destination or the other. So, you will definitely have to hire transport in Agra. And in this case, the area of accommodation is secondary. But the best option is, of course, staying closer to the Taj Mahal.
Hotels in Tajganj
Tajganj is the territory adjacent to the Taj Mahal. Here you will find a lot of guest houses that will charge you only a few US dollars per night. These guest houses are usually occupied by backpackers who are on a tight budget.
In the same district, on the Fatehbad Road that divides the district in the middle, there are large hotels belonging to world-renowned hotel chains where you can get a standard 4- or 5-star hotels' quality of services for reasonable money.
The room rates, both in guest houses and large hotels, increases the closer to the Taj Mahal they are located. So, ultimately, the choice of accommodation is determined by one criterion: how much you are willing to spend for a single night stay in Agra.
Choosing a Guest House in Agra
As a rule, guest houses are located at a distance of 2-3 km from the Taj Mahal, there are some that are closer, but the rates there are higher than the tourist on a budget would like to spend.
Like in Delhi (and in many other cities in India) it is not necessary to book a room in a guest house in advance. You can simply come to the TajGanj area and go from one guest house to another, choosing the one you like. Once you decide which one you like, you can start bargaining. Often, tourists staying in the same guest house, living in absolutely identical conditions, pay completely different rates.
You should in mind that the level of comfort would be practically non-existent, a small room and likely problems with hot water supply. If you are not afraid of that, then it will be a great opportunity to save on accommodation for you.
I can recommend the following budget-friendly guest houses and hotels in Agra: Shanti Lodge, Hotel Shyam Palace, Rahi Tourist Bungalow Hotel Agra and Lucky Restaurant & Guest House.
Shanti Lodge is a small guest house, just a few minutes' walk from the Taj Mahal. Small, clean rooms with old furniture. The rooftop restaurant offers a wonderful view of the Taj Mahal.
Hotel Shyam Palace is in the same price category; it offers spacious clean rooms with a fan. The hotel is located just a few minutes' walk away from the western gate of the Taj Mahal.
Rahi Tourist Bungalow Hotel Agra is operated by Uttar Pradesh State Tourism Development Corporation. This provides additional advantages for the hotel's guests, including a higher level of security, no problems with hot water, Internet connection, and a wonderful garden where you can relax. Rooms are clean, but small. The hotel itself is a bit far away from all the main attractions, so it is peaceful and quiet here. And considering that most likely you will still hire transport for the day, the location is not that important.
Lucky Restaurant & Guest House is located in the middle of Tajganj. In addition to nice rooms, the hotel boasts a good restaurants and a great rooftop view.
Choosing a hotel in Agra
Most of higher comfort level hotels of TajGanj are located on the Fatehbad Road. Here you will find both large chain hotels and smaller hotels that provide more or less the same level of comfort.
It makes sense to choose these hotels, if you absolutely cannot imagine yourself in a guest house and want to enjoy the usual comfort for which are willing to pay extra.
Rates for 4-5-star hotels in Agra will be different compared to the rates of similar hotels in major cities around the world. Here you can find a room for $100 per night or less.
If you plan to stay in one of such hotels, I recommend Radisson Blu Agra Taj East Gate, The Gateway Hotel Fatehabad Agra or Wyndham Grand Agra.
Radisson Blu Agra Taj East Gate is located just 1 kilometer from the eastern gate of the Taj Mahal. Here you can enjoy traditional Western quality. The hotel has a pool, a spa and 5 restaurants. Spacious rooms are equipped with air conditioning, in addition there is free (although, somewhat slow) Wi-Fi.
You can reach the railway station in 15 minutes from here, the Agra Fort is closer – just 5-10 minutes away.
Gateway Fatehabad Agra will impress you with its territory more than 3 hectares of landscaped gardens. Here you will also find a swimming pool and a spa. However, Gateway Fatehabad Agra is located a little farther from the Taj Mahal, yet many of the rooms offer great Taj Mahal views. I believe this hotel is a great option for families with kids.
Finally, Wyndham Grand Agra also boasts a great location – it is just 2 km away from the Taj Mahal. The hotel has an outdoor swimming pool, wonderful landscaped gardens and fountains. Rooms are spacious and comfortable, though the furniture in some rooms is not new. There is also a spa for guests.
Things to Consider When Choosing a Hotel in Agra
The best way to plan your visit to Agra is to stay for one night in a hotel located not far from the Taj Mahal. The choice of a hotel largely depends on your budget. In India, actually, everything is cheaper, so there is a temptation to save on accommodation and pay mere pennies compared to what you would pay in a European country or in the US. It should be understood that the level of comfort will correspond with the amount of the money you will pay. If you are ready for this, go straight to guest houses. Remember that you can (and should) always bargain with the owner of the guest house. If the price is not good enough for you, just move to the next guest house nearby, its owner will be happy to accommodate you.
As a rule, these accommodations do not have websites, you can find the contacts of the owners on the forums or through a friend, but a reservation is not required. The number of guest houses in Agra is so large, that even in the peak season there will be vacant rooms.
Guest houses usually apply the 24-hour rule, which means that you can check out 24 hours after you checked in, and not before noon which is usually the case in hotels. However, you should discuss it in advance with the owner of the guest house.
If staying in a guest house is a too extreme adventure for you and you will definitely want to book an accommodation in advance, choose one of the 4-5-star hotels near the Taj Mahal. For 80-100 US dollars per night you will be able to find accommodation with the quality and comfort standards that you are used to.